An 88-year-old woman was going about her day when the right side of her body felt weak and she was suddenly unable to speak — the signs of a massive stroke. She was in Dublin, Georgia, a small town in the middle of the state, and was sent to her local hospital, Fairview Park Hospital, where she received initial treatment. When the need arose for her to receive more specialized care, a helicopter transported her to Augusta University's Comprehensive Stroke Center, the first of only four in the state and second in the region. After she recovered, she returned to Fairview Park Hospital to begin rehabilitation close to home.
Before Remote Evaluation for Acute Ischemic Stroke (REACH), none of this would've been possible.
Founded at Augusta University, REACH Health is a nationally recognized telemedicine service that facilitates neurological consults for patients in hospitals that lack emergency neurology coverage. This service eliminates the patient's travel time, speeds up the treatment process and reduces disability from stroke by allowing Augusta University neurologists to diagnose and treat stroke patients remotely at participating hospitals at any time and from anywhere — all through a standard computer webcam and an internet connection.
How it works
An emergency department (ED) nurse at the local hospital enters patient health information into the REACH application.
The ED calls the Emergency Communications Center, where an operator pages the on-call REACH consultant at Augusta University.
The consultant accesses the REACH application, providing an immediate connection between the local hospital and the comprehensive stroke center.
Consultants can communicate with the staff, patient and family using application equipment. Web-based data between the local hospital and the consultant is continuously updated to ensure the accuracy of data exchange. The local hospital sends scanned CT images to the REACH application so they are readily available for review.
After reviewing the CT scans and assessing neurologic deficit, the consultant will recommend whether or not to proceed with treatment.
David Hess, MD, clinical service chief of neurology at Augusta University's Neuroscience Center of Excellence, emphasized that REACH is all about the continuum of care. The aforementioned patient was treated within about four and a half hours at Augusta University Health.
"We couldn't have done this without telemedicine," Hess said. "Georgia is a rural state, so we must use telemedicine and look beyond Augusta."
Augusta University looks beyond Augusta
To learn about our neuroscience services and providers, call us at 706-721-4581, or visit augustahealth.org/neuro.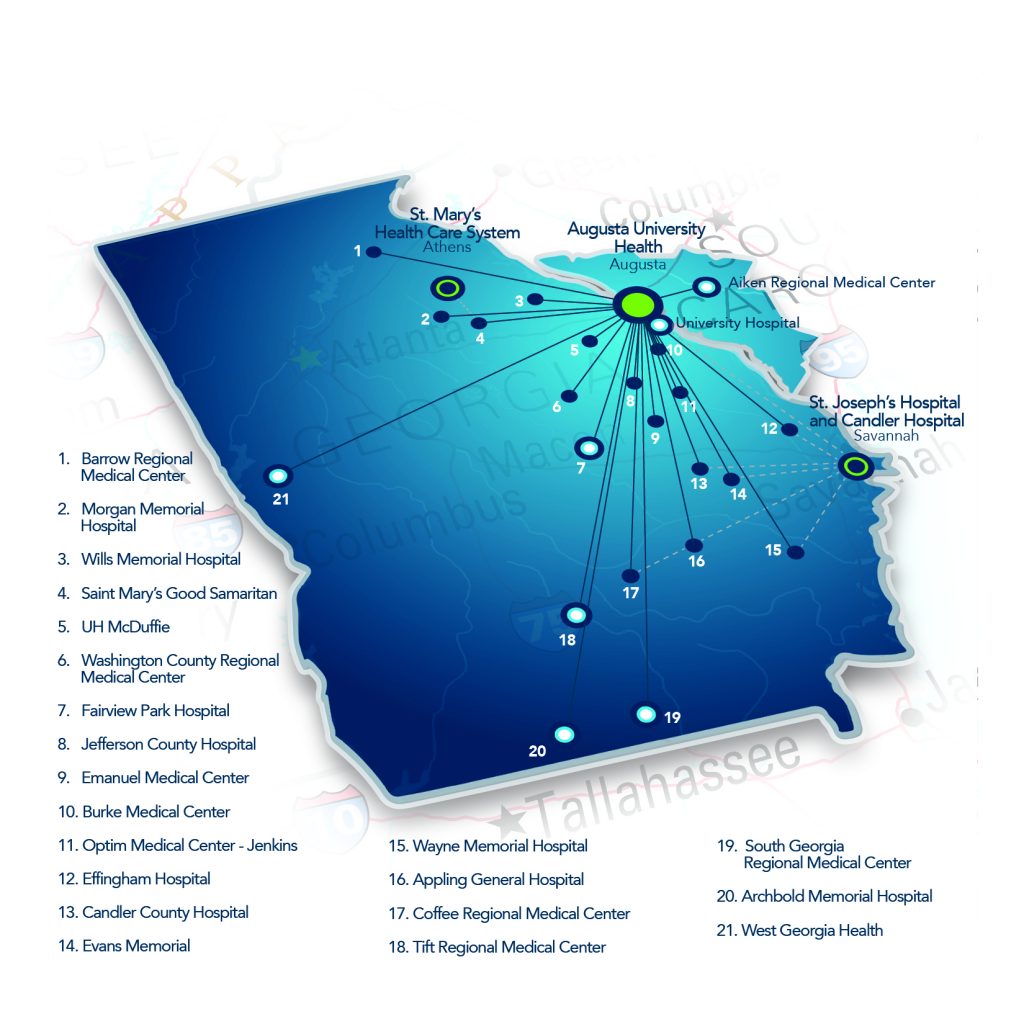 For more information about REACH Health, please visit reachhealth.com
To learn more about Augusta University REACH network, please call 706-446-5621