A mother may have lost her daughter to an aggressive form of brain cancer, but that doesn't mean she's stopped supporting the medical team that gave her family more time to make memories. For this community catalyst, it is all about providing hope for future families facing the same dire diagnosis.
"Dr. Ted Johnson took Gracie's case when every other cancer doctor we talked with told us there was no hope and nothing we could do to change that," said Victoria Scott, mother to Gracie Scott. "So, we feel like it's a calling from a higher power to offer financial assistance to him and the Pediatric Immunotherapy Program to try and provide that sense of hope to those parents whose children are battling brain cancer."
Gracie Scott's cancer journey started when she was 8 years old. In November 2016, a doctor in McColl, South Carolina, where the family lives, diagnosed Gracie with diffuse intrinsic pontine glioma. DIPG is a form of brain cancer that forms in the brain stem in the area where the spinal cord connects to the brain. At first, the family traveled to Charleston, South Carolina, for radiation therapy. She finished around the beginning of January 2017.
"Her tumor went into remission after the treatment," Scott said. "We were just hoping for some sort of stability where the tumor wasn't growing. We were told we caught it really early. But, in the end the doctor in Charleston told us it wouldn't matter and gave us a life expectancy of no more than nine months."
At the time of her diagnosis, Gracie enjoyed gymnastics. While her balance remained perfect, she had to stop doing flips because the tumor was causing a fluid buildup at the base of her brain. But three weeks after the radiation therapy had ended, Gracie was back to flipping through the gym with the rest of her friends.
"She lived a more normal life for almost a year," Scott said. "She started having problems with her vision and her eye movements. So after being treated with steroids and an MRI, we learned her tumor had started growing a small amount."
Scott and the family tried to get Gracie into an immunotherapy clinical trial in Charleston, but they did not qualify. When the door closed, Scott's next step was a phone call with Johnson to see if Gracie would qualify for the Pediatric Immunotherapy Program at the Children's Hospital of Georgia.
It only took a couple of days for Johnson's team to schedule Gracie's first appointment in Augusta, and the family headed south, hoping the clinical trial was the answer to their prayers.
"We really felt hopeless until we talked to Dr. Johnson," Scott said. "I just remember thinking and feeling that this is it, this is where we are supposed to be, this is where we are supposed to go on our journey with Gracie. He was willing to take her case when no one else would."
While Dr. Johnson and his team helped provide Gracie and her family more time together, she lost her battle with DIPG in May 2018. Scott started the Gracie's Hope Foundation in an effort to keep her daughter's memory alive while offering hope to other families.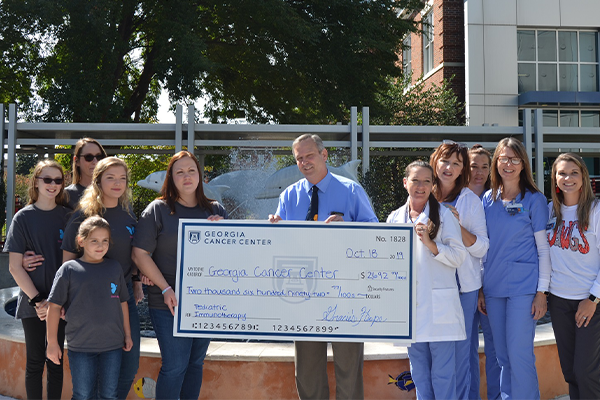 "When she was alive, I remember her saying she hoped nobody else ever has to go through what she was going through," Scott said. So, we developed the foundation off the hope she had and the faith she had in the research Dr. Johnson was doing at the Children's Hospital of Georgia and the Georgia Cancer Center."
So far, the family had donated about $11,000 to Johnson and the Pediatric Immunotherapy Program, with plans to continue the fundraising for many years to come.
We want to connect with you and your community!
Learn more about the Georgia Cancer Center's community outreach and how you can support the work happening where you live by visiting augusta.edu/catalyst.