It is a perfect partnership thanks to a popular breakfast food and a need to support Georgia's cancer center and the patients receiving treatment for their disease.
For two years now, the Georgia Cancer Center has been proud to partner with Covelli Enterprises, which operates Panera Bread franchises across the country, including one each in Augusta, Evans and Aiken, for their Pink Ribbon Bagel campaign.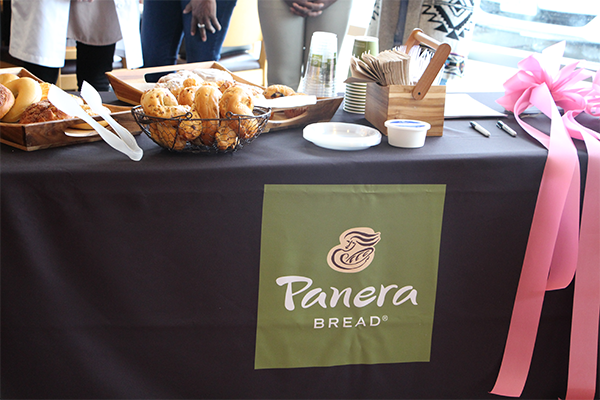 "In 2017, we partnered with a breast health center in Statesboro, Georgia," Danielle Covelli, marketing coordinator for Georgia and South Carolina, said. "But, in 2018, we decided we wanted to find a local organization in the Augusta area to support. You could say local is our middle name."
Covelli started scouring the internet for a local organization with the right cause and the right mission for her family's company to support. When she found the Georgia Cancer Center, she realized she had found a potential partner.
"I remember reaching out to Barbara McFarland and asking her if this would be something the Georgia Cancer Center would be interested in," Covelli said. "She said, 'Most definitely.' When I met with Barbara, Al Dallas and others at the Cancer Center, I could feel the excitement about making that year's campaign even more successful than the first year."
McFarland, administrator for the Georgia Cancer Center's Outpatient Services clinic, and Dallas, administrator for the Georgia Cancer Center's M. Bert Storey Research Building, brought together members of their team to meet with Covelli to see what steps the Cancer Center needed to take to support the Pink Ribbon Bagel campaign and make it a success.
Since the partnership began, Covelli Enterprises has donated about $7,600 to the Georgia Cancer Center. Dr. Jorge Cortes, director of the Georgia Cancer Center, is working with Covelli to determine the best way to use the funds raised in 2019. Money collected during the 2018 campaign went to support patient support services that were awarded based upon applications submitted by clinical faculty and staff.
And it's not just the Pink Ribbon Bagel campaign that brings Panera Bread and the Cancer Center together. Covelli and her team have also taken part in the Unite in the Fight Against Cancer walk since its inception in 2018.
"You all have been great partners," Covelli said. "The Georgia Cancer Center's efforts in promoting and engaging in our campaign have truly contributed to its success over the last two years."
In 2019, there was an extra special kick-off celebration for the Pink Ribbon Bagel campaign. Covelli and her team hosted breast cancer survivors and Georgia Cancer Center employees for a breast cancer ribbon hanging ceremony. It was a chance for Panera Bread employees to better understand where the money customers spend on pink ribbon bagels goes.
"Every time we partner with an organization, we want our employees to see first-hand what the impact of the campaign will be," Covelli said. "With cancer, God forbid an employee, their family member or friend ends up being diagnosed with cancer. But, if they know what the Georgia Cancer Center is and how much they care for their patients, it gives them a sense of peace and calm in dealing with the diagnosis."
We want to connect with you and your community!
Learn more about the Georgia Cancer Center's community outreach and how you can support the work happening where you live by visiting augusta.edu/catalyst.