Julie Moretz sat quietly in the pediatric intensive care unit with her son, Daniel—until a team of physicians flooded in to discuss his case. She was asked to leave the room … to leave her son's side.
She saw other parents leave their young children, so she exited without questioning. But it didn't feel right. Shouldn't a patient's parent or health care advocate be allowed—welcomed, rather—to participate in the this important discussion?
It was this very thought that inspired Julie to dedicate her life's work to developing and implementing a transformative health care delivery model: patient- and family-centered care (PFCC), which Julie defines as "the experience and foundation of care in a patient's life."
"PFCC is about connecting the care team and the patient and family on a totally different level," Julie said. "It's about going deeper by partnering with the patient and family in all aspects of care and giving them a voice in their care."
One little boy, many big changes
Daniel, Julie's second son and third child, was born in 1991 with three heart defects.
"Many clinicians thought he'd never leave the hospital," she said, "Regardless, I needed to be at his bedside. We knew that his own heart would never let him grow up, so we accepted the fact that he would need a host of surgeries, and most likely, a heart transplant at some point."
Administrators and clinicians noticed Julie's tireless commitment to her son's care and that she was asking why such restrictive policies were in place. So, they began soliciting her input on decisions that would enhance the experience for all patients and families.
In 1993, she was asked to serve as the first volunteer chair of the newly formed Family Advisory Council, whose work informed the design of the Children's Hospital of Georgia at Augusta University and positioned the larger health system, Augusta University Health, as a pioneer for PFCC.
"Our goal was to keep families together with patients as much as possible, which impacts quality and safety," Julie said. "We learned that clinicians were just bound by outdated policies and procedures, which told us it was time to revisit that. In partnership with parents, clinicians, staff and administrators, we did, because it was the right thing to do and the right time to do it."
Three years later and after repeated offers to join the hospital staff, Julie accepted a full-time position as director of family services development.
Given that the hospital was designed using patient- and family-centered care principles, it became important to Julie that PFCC would be the standard of care inside the new building. The timing was perfect for her to become a member of the staff.
Julie had suddenly gone from being asked to leave the room to sitting at the head of the table—and inviting others in her position as a caregiver to join her there.
"I was in the right place at the right time," she said, "and people were willing to listen to me. Our staff was very accepting of patient- and family-centered practices."
Being truly present
In 1998, after 11 heart-related surgeries by the time Daniel was 8 years old, he reluctantly agreed to fly to Boston by air ambulance for a heart transplant on the following terms: he could wear a black tuxedo and "shiny black shoes" on the flight. The transplant was a success.
Daniel's body responded very well to his new heart for five years almost to the day, until he developed coronary artery disease, which can typically happen at the five-year mark post-transplant. His condition rapidly declined.
Right before a cardiac catheterization procedure, which Daniel had undergone so many times before, Julie asked her son, 14 years old at the time, to be prepared for his doctor to ask him if he wanted another transplant. He told her, "I do want to have another heart transplant, because I want to live."
Julie and her husband, David, walked with Daniel to the catheterization lab and kissed him goodbye. Having received news that the cath was progressing as planned, Julie ran to her office, two floors below, to grab something. As soon as she got what she needed, she scurried back to the hospital room where David was waiting for news about Daniel. While en route, she heard "code blue" over the loud speaker.
"I thought nothing of it," she said, "but soon after returning to the hospital room where David was waiting and where Daniel should soon be recuperating, we quickly learned that the code blue was for our son."
Julie and David were quickly escorted to the cath lab to be with Daniel while the team worked to resuscitate him. Thanks to the adoption of PFCC at Augusta University Health, Julie and her husband, David, were permitted to be at their son's side during this time.
"I'll always remember the tall technician pumping Daniel's chest under the bright lights and the sweat dripping down his face," Julie said. "If we hadn't implemented patient- and family-centered care, then my husband and I wouldn't have been able to be with Daniel during that critical time or see how hard our team worked for him. Even though the outcome was not what we wanted, this means more to us than anyone will ever know."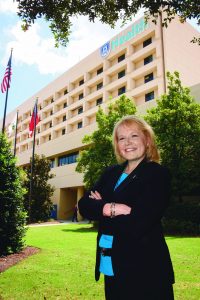 'I feel like I'm home'
Julie recently returned to Augusta University Health after working with PFCC on a national level for seven years and for another academic medical center for four years. Her new office is located in the same space where Daniel received his pediatric cardiology care in the '90s. But Julie doesn't feel pain or sorrow.
"I feel like I'm home," she said. "Daniel always felt like this was his hospital and that he was helping other sick children; he didn't even view himself as sick. I feel his presence inspiring me as we work to improve the experience for all patients and families. We were blessed to have him in our lives for 14 years."
The Academic Health Center Advantage
There are a number of advantages to choosing an academic health center for care. To learn more, visit auhealthadvantage.com.