Eight years ago, Dr. Alicia Vinyard started her fourth year of medical school.
"I always knew I wanted to be a doctor from a very early age," she said, "and I was excited that I was finally reaching that dream as I entered my final year of medical school."
But as she was studying for her board certification exam in February 2009, she found a lump in her left breast. The lump was painful—which is uncharacteristic of cancer—plus, she was only 25 years old, and no one in her family had breast cancer. All signs pointed to "benign."
The pain worsened, prompting her to get a mammogram and ultrasound in May 2009, which also showed benign findings. But the pain remained. It made her so uncomfortable that she had the lump removed in June 2009.
The life-changing phone call
Three days later, Vinyard was at home in Charlotte, North Carolina, recovering from the surgery and packing to return to her clinical rotations when her doctor called to break the news: The pathology report showed that she had invasive ductal carcinoma, a type of breast cancer that begins in the milk ducts and then spreads to the surrounding breast tissues—the most common type of breast cancer.
"None of it made sense," said Vinyard, who was well aware that less than 1 percent of breast cancer cases in the United States are in women under the age of 30, but when it occurs in this group, it tends to be more aggressive. "I was not expecting that call; I was expecting to finish my last year of medical school."
Several days later, she underwent further surgery to remove residual cancer and had lymph nodes in her underarm removed to curtail the spread of her disease. She then began chemotherapy—but losing her hair wasn't the hardest part for her.
"The hardest part of all of this was that I had to take a break from medical school," said Vinyard, who took five months off for her surgery and chemotherapy, which she completed in November 2009. "My lifelong dream had to be put on hold."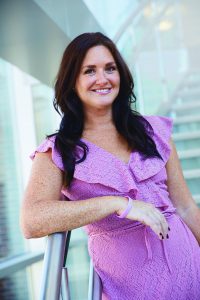 Answering her calling
Immediately after chemotherapy and in the midst of six weeks of daily radiation treatments, Vinyard returned to her fourth and final year of medical school and began her first clinical rotation. Of all specialists to which Vinyard could have been assigned after surviving breast cancer, she was paired with a breast surgeon.
The first surgical case was placement of a chemo port, a small device that is implanted under the skin to assist in the delivery of the chemotherapy drug. The patient felt uneasy about her course of treatment and asked what a chemo port would look like. Without hesitation, Vinyard pulled down her collar and said, "It looks like this."
"It obviously relieved the patient's anxiety," she said, "and it allowed me to connect to her in a deeper way."
This encounter gave Vinyard's career aspirations new meaning and validated her decision to become not just a general surgeon but a specialist in breast cancer surgery. Her personal experience with breast cancer has motivated her in a profound way and has influenced how she approaches patient care.
"I can empathize with my patients and easily put myself in their place," she said. "With each patient, I tailor their surgical options to what is best for them but also to what they can deal with each day going forward. During surgery, I consider the placement of their scars, because I want them to be able to look in the mirror and not be constantly reminded of their disease. Fortunately, I had an excellent breast surgeon, and my scars are so well healed that I don't see them—I want that for them."
If it's cancer, see us first.
To learn about our cancer specialists and services like breast surgery, visit augustahealth.org/cancer, or call us at 706-721-6744.
Q&A with Dr. Alicia Vinyard
Breast surgeon at the Georgia Cancer Center at Augusta University
Board-certified in general surgery
Education
Medical degree, Philadelphia College of Osteopathic Medicine – Georgia Campus, 2011
Bachelor's degree in pre-med, University of North Carolina – Chapel Hill, 2006
Training
What made you want to return to Augusta University as a breast surgeon?
"Through working in academic medicine, I get to not only be a physician, but I also get to be a teacher. I learned during my residency that I really enjoy this aspect of my role, so I knew that I wanted to be in that environment once my training concluded.  As a resident at MCG for 5 years, I developed a strong relationship with the faculty and staff, and they became a family to me. I wanted to continue that relationship as a faculty member." 
If you could tell a patient one thing, what would that be?
"I'm sorry you're here, and overall, cancer just sucks. You don't deserve to be here. We're a team, and we're going to get you through this. This cancer will eventually be a distant memory, and you're going to live a full life. Trust your doctors, realize that your cancer is 100 percent different from the next person's cancer, and don't let things you read or see give you fear or anxiety that you're not getting proper treatment. I've been through this—exactly where you are—and I'm here today as your surgeon and as a survivor."
What's your favorite part of your job?
"Hands down, it's telling people they're cancer-free. Regardless of the treatment they have, whether it's chemo or radiation—once I do my job, the cancer is removed, and the patient is cancer-free. I enjoy telling them first."
What's your plan for your patients and their families?
"In addition to conducting research and clinical trials, I look forward to continuing to use my personal experience to connect with patients. I plan to apply the advanced surgical techniques I learned in Miami here in Augusta and participate in community outreach projects that allow me to tap into rural markets."
If it's cancer, see us first.
Our team of specially-trained cancer providers are skilled in the care of your unique diagnosis. Our teams work together to collaborate and determine a personalized treatment plan for your individual needs. Visit augustahealth.org/cancer or call 888-365-0747.
Identify your different types of breast cancer risk factors by taking this Healthy Breast Quiz.