Do you find yourself making plans around your visits to the bathroom?
You're not alone.
Your symptoms could point to irritable bowel syndrome, "a chronic condition where patients suffer from abdominal pain and altered bowel habits in the absence of any other causes," explained Dr. Amol Sharma, a gastroenterologist at Augusta University's Digestive Health Center.
IBS can occur at any age but may be seen as early as adolescence or early adulthood. According to the International Foundation for Functional Gastrointestinal Disorders, IBS is the most common functional GI disorder with 10-15% of adults and adolescents having symptoms consistent with IBS.
While the underlying cause of IBS remains unclear, "some patients may develop symptoms after a viral illness affecting the gastrointestinal tract," Sharma said. "Severe stress and anxiety may be drivers of symptoms in IBS." If you develop any of the following symptoms, also known as alarm symptoms, you should see a doctor.
Common symptoms of IBS
Bloating and abdominal distension
Crampy, diffuse abdominal discomfort
Diarrhea
Constipation
Food intolerance
Uncommon symptoms of IBS
Rectal bleeding

Weight loss

Anemia
Fever
Experiencing symptoms in the middle of the night
"While IBS is not known to decrease life expectancy, it can dramatically affect the quality of life," said Sharma. "IBS is associated with increased health care costs and is the second highest reason for missing work."
Traveling with IBS
Individuals with IBS can experience difficulty traveling or living a normal life. Here are some helpful tips if you're traveling soon: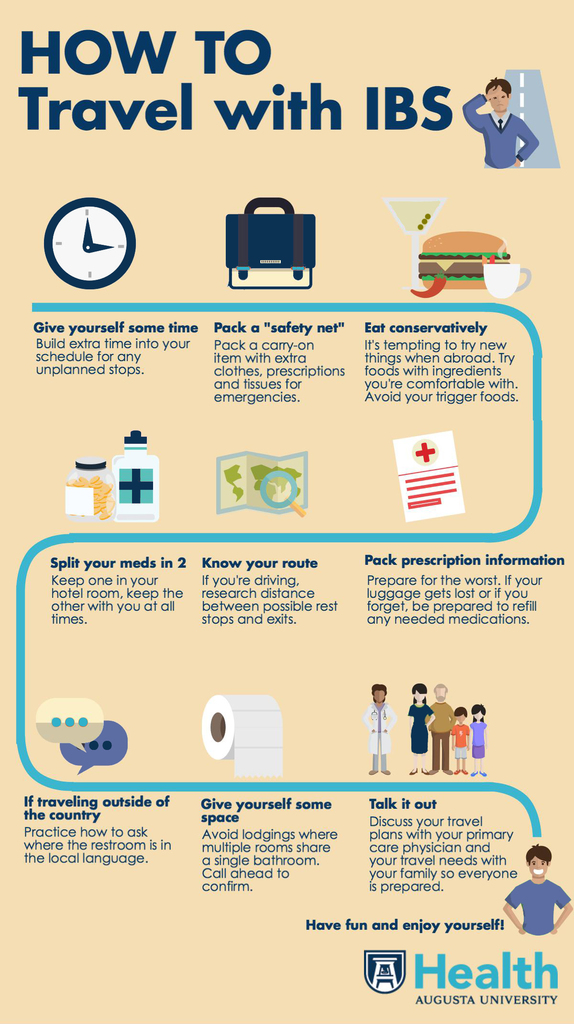 IBS patients should seek consultation with a gastroenterologist to exclude other potential causes of symptoms. "Cases not responding to initial medical management should be referred for further evaluation by a neurogastroenterologist & GI motility specialist," Sharma said.
The Augusta University Digestive Health Center partners the latest technology with a multidisciplinary team under one roof so patients and families can benefit from a single, convenient location dedicated to their ongoing digestive health. Schedule an online appointment or call 706-446-GUTS (4887) to speak to a member of our digestive health team.