Too many of us ignore certain symptoms, believing that they are caused by something minor. Have you ever thought that the abdominal pain you're experiencing will pass, that the blood in your stool was due to constipation, or that nearly choking on your food is because you were in a hurry and didn't chew thoroughly? Those reasons could be true, but there is a possibility that those could be signs of something more serious: gastrointestinal cancer.
What is gastrointestinal cancer?
Gastrointestinal (GI) cancer is a cancer in one or more of the organs in the abdomen, including the stomach, esophagus, colon, rectum, liver and gallbladder. While GI cancer is more frequently seen in patients age 60 years or older, "there is an increase in the incidence of colorectal cancers in patients younger than 50 years," said Dr. Asha Nayak, a medical oncologist at the Georgia Cancer Center at Augusta University. While some cancers can be inherited, GI cancers are most commonly related to age, a high body mass index or excessive weight gain. The best way to make sure you or your family member is healthy is to see your doctor for a cancer screening.
What to expect 
Screenings for GI cancer rely on gastrointestinal endoscopy. The physician uses an endoscope—a flexible fiber-optic tube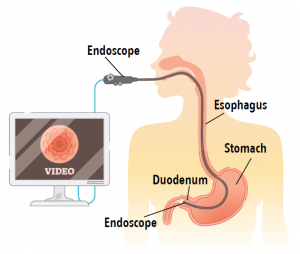 with a tiny camera on the end—to view the inside of the digestive tract as it is projected on a screen in real time. "The endoscope not only allows diagnosis of GI disease, but treatment as well," said Nayak. There are multiple types of endoscopies, depending on which portion of your digestive tract your doctor needs to inspect. The upper-GI endoscopy (EGD) looks at the esophagus, stomach and upper small bowel (duodenum). A colonoscopy "enables the doctor to see ulcers, the inflamed mucous lining of your intestine, abnormal growths, and bleeding in your colon or large bowel," said Nayak.
Treatment
If diagnosed with GI cancer, the American Cancer Society suggests your provider help you decide a path that best fits your needs based on your age, any other health conditions you have, and the location and stage of the cancer. The top treatment includes the cancer being operated on, said Nayak. "After surgery some patients will need chemotherapy. Sometimes radiation is also indicated."
Early symptoms of GI cancer you shouldn't ignore
Abdominal pain
Belly distention
Change in bowel movements
Difficulty swallowing
Jaundice (yellowing of the skin)
Nausea
Poor appetite
Rectal bleeding
Vomiting
Weight loss
The Augusta University Digestive Health Center partners the latest technology with a multidisciplinary team under one roof so patients and families can benefit from a single, convenient location dedicated to their ongoing digestive health. Schedule an online appointment or call 706-446-GUTS (4887) to speak to a member of our digestive health team.